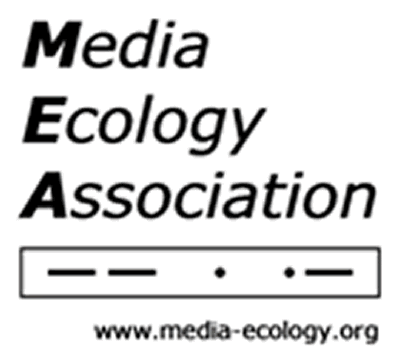 The Official Newsletter for the Media Ecology Association
New Member Management Software



The MEA has begun using a member management software program, Wild Apricot.
In a few weeks, you will receive a membership renewal reminder with an option to click on the link and pay online. (You may also pay by check, by sending your MEA dues to our treasurer Paul Soukup, S. J.)
Once you receive the reminder email, please plan on logging into Wild Apricot, the member management program, to complete your profile and to make any changes to your address and membership level. Instructions on how to pay and update your profile will appear in the reminder email.
We will use the same system to handle convention registration, both early (discounted) registration and regular registration.
Spotlight on our President
"I had studied Marshall McLuhan, Neil Postman, Walter Ong and Joshua Meyrowitz for a decade that included a dissertation, several journal articles and a book before I heard the term "media ecology." Fatefully, Lance Strate reached out to invite me to the McLuhan Symposium at NYU in 1998. It was like coming out of the desert after years toiling alone and finding my research tribe. Twenty years later I remain a loyal family member through thick and thin, contributing a steady stream of papers, hosting two conventions, editing the journal and now serving as your MEA president for a year.
Paul Grosswiler
MEA Panel at ICA 2019
The Media Ecology Association had the follow panel accepted for presentation at this year's International Communication Association Conference, which will take place at the Washington Hilton Hotel in Washington, DC, from May 24-28, 2019.
"Media Ecology Within, Across, and Beyond Boundaries"
Chair: Thom Gencarelli, Manhattan College
"Crossing the Generational Divide: Digital Technology as a Bridge"

Brecken Chinn, Generations Communication Centers

Zack Brooks, Generations Communication Centers

LaToya Hinton, University of Arizona

Yuxi Liu, The George Washington University

Yang Liu, University of Arizona

"Synecdoche, Aesthetics, and the Sublime Online: Or, What's a Religious Internet Meme?"

Scott Haden Church, Brigham Young University

Gavin Feller, Southern Utah University

"Rethinking and Restricting 'Free' Speech: New Media and their 'Clear & Present Danger' to Democracy"

Sam Lehman-Wilzig, Bar-Ilan University

"Social Networks Beyond Boundaries: How the Brain is Guided in the Contemporary Era and its Impact on Human Behavior"

María-Teresa Nicolas-Gavilan, Universidad Panamericana, Campus México

María-de-los-Ángeles Padilla-Lavín, Universidad Panamericana, Campus México

Laura Trujillo-Liñán, Universidad Panamericana, Campus México

"Shifting Boundaries: Reconceptualizing Agency for the Social Media Environment"

 Judith E. Rosenbaum, University of Maine

Thom Gencarelli is the MEA's liaison to the ICA.

We hope to see you all in Washington D.C.!



Thom Gencarelli
Click here for a video of Thom Gencarelli's talk from the recent Institute of General Semantics Symposium, "Language and Meaning in the 21st Century," which took place in New York, NY in October, 2018.
The title of his talk is: "'Literacy as Deviance' and Virtual Reality."
New Rushkoff Book at MEA 2019 Convention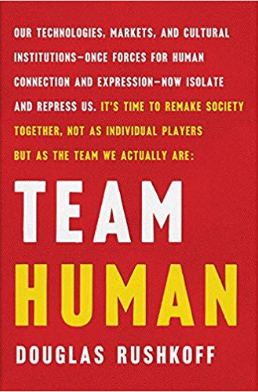 We have some exciting news for all who are planning on attending the 2019 MEA convention in Toronto: Preeminent digital theorist, Douglas Rushkoff, will be providing copies of his brand-new book, Team Human, to MEA members at the meeting. Make sure to attend to pick up your copy!
Click here to learn more about the book.
CALL FOR NEWSLETTER CONTENT
To submit your news to In Media Res, the official monthly newsletter of the Media Ecology Association, please click here for the submission form.
We are looking for news that is relevant to the members of MEA. This might include member achievements(i.e., journal publications, books, creative works, etc.), awards received,upcoming relevant conferences, recent books that MEA members should be aware of, web content that might interest MEA members, news about upcoming EME issues, calls for submissions, etc.
The deadline for submissions to be included in the next month's newsletter is the 28th of every month at 5pm EST.