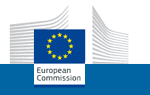 Digital Agenda for Europe
Newsletter – 18 December 2015
DigibytesDIGIBYTES — 18 December 2015Have your say on how to boost Europe's cybersecurity industryThe European Commission launches today a public consultation on the Public-Private Partnership (PPP) on cybersecurity.
DIGIBYTES — 16 December 2015End of Roaming surcharges! Consumers will pay only 1.14 cents/minute for calls received until June 2017The Commission has just adopted new implementing rules which set out the maximum charges that consumers can be charged for receiving phone calls when roaming abroad in the EU.Read more…
ConsultationsCONSULTATION RESULTS — 16 December 2015Contributions and preliminary trends of the public consultation on the review of the EU Satellite and Cable DirectiveThe public consultation on Directive 93/83/EEC of 27 September 1993 on the coordination of certain rules concerning copyright and rights related to copyright applicable to satellite broadcasting and cable retransmission (the Directive) was held from 24/08/2015 until 16/11/2015.

This is an update from the Newsroom of the Digital Agenda for Europe.
Join the Digital Agenda Community.You may unsubscribe or broaden your subscription by going to Your Profile or by contacting us at this address:cnect-newsroom@ec.europa.eu.